Tri Cut Carry Stainless Black Nitride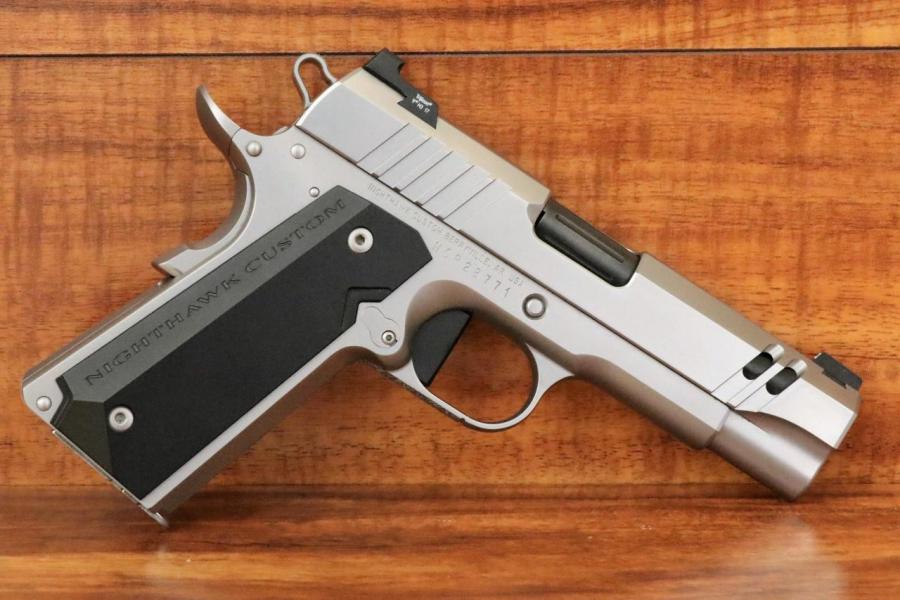 Tri Cut Carry Stainless Black Nitride Barrel
This Tri Cut Carry is an excellent example of David Atchley's work. It has been upgraded with a Stainless finish, black nitride barrel, and fluted barrel hood.
Here's the description from Nighthawk:
DETAILS
The Tri-Cut is a custom creation that came from one of our innovative gunsmiths as part of his successful application to the American Pistolsmiths Guild. It's a commander 9mm designed around a tri-cut, angled design. The slide, frame, mainspring housing, and grips have been tri-cut for a futuristic design. These unique cuts not only add to the appearance, but they make the grip thinner. A pneumatic stippling device is used to hand stipple the front strap, mainspring housing, bottom of trigger guard, flattened trigger, and magazine release to achieve a cutting edge design. To top off this distinct model, we have added a polished barrel that shows through ports near the front of the slide
One Gun, One Gunsmith.™
Fully Machined Series (FM)
This product has been proudly manufactured at our factory in Berryville, Arkansas, USA.
FEATURES
Finish: black nitride
Forged commander size frame and 4.25" barrel
Match grade 9mm bull barrel
Thinned tri-cut mainspring housing with the center flat stippled
Tri-cut front strap with the center flat stippled
Stippled bottom of the trigger guard
Round butt mainspring housing
Tri-cut slide with stippling on top of the slide
Course rear cocking serrations
Heinie Ledge Straight Eight Tritium rear sight
Nighthawk tritium front sight
Full length guide rod with bow tie plug
Angled mag release with stippled top
Curved Nighthawk slide stop with the bottom stippled
Black tri-cut aluminum grips
Semi-crowned barrel flush with bushing
Flat faced Nighthawk Custom trigger with the face stippled
Completely dehorned for comfortable carry
New ultra hi-cut front strap
Item Info
| | |
| --- | --- |
| Item ID | 276088- |
| UPC | 1NCP28771 |
| Brand | Nighthawk Custom |
| Model | Tri Cut Carry |
| Mfg No | 1NCP28771 |
| Caliber | 9mm |